Happy Sunday Everyone! 

Welcome to Yuan Talks Weekend with the most important stories you should not miss! Everything in the newsletter was updated in a real-time mode in our subscriber-only Wire Service. Try For Free


Country Garden Debt Woes Deepens

China's struggling real estate sector remained a market focus last week after Country Garden, once the nation's largest private property developer, warned investors that it could default on debt. 

The company has failed to make a repayment of HK$470 million ($60 million) due on Tuesday and warned it won't be able to meet all of its offshore payment obligations on schedule. The firm has hired advisers to evaluate its liquidity conditions and formulate a "holistic solution" to address its offshore debt risk.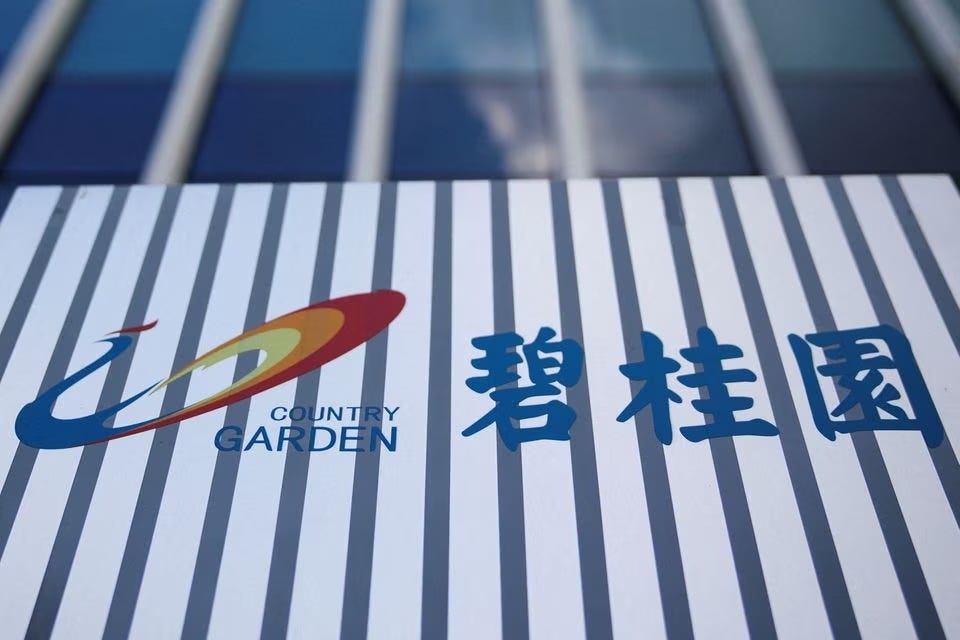 The developer has been battling a liquidity crisis and has dodged multiple defaults in the past month. Its property sales tumbled 81% on year in September.
Due to low property sales, Country Garden's operating cash flow has been negative since Q2 and a large number of offshore bonds will mature in December and January next year, Morgan Stanley noted.

As the company has hired advisors and its sales have tumbled, it will likely formally default on $15 million coupon payment due next Tuesday at the end of the 30-day grace period, CLSA estimated.

Country Garden founder Yang Guoqiang has reportedly sold his private jet to repay debts and his family is said to have recently offered a $300 million interest-free loan to the firm to ease debt pressure. 
This newsletter is made public for promotional purpose. If you want to receive our weekly newsletter every Saturday, please subscribe here. Or you can leave your email to receive free updates!
[mc4wp_form id=7615]

Real Estate Market Remains Weak Despite Policy Easing

The deepening of Country Garden's debt woes came as China's housing market remains sluggish despite intensive introduction of policy relaxations since August.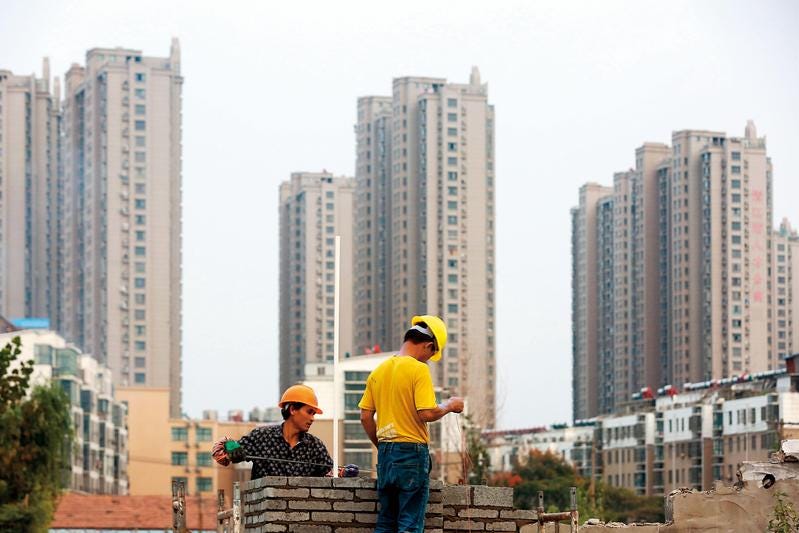 New home sales during the Golden Week holiday were weaker than expected, with transactions in 35 major cities falling 17% from a year ago and sliding 24% from the same period in 2019, according to China Index Academy.
That reflected weak market sentiment and the existing policy measures are not enough to drive a clear recovery, HSBC said. JPMorgan said no obvious recovery has been seen in property sales and no significant recovery is expected in Q4.
A survey by Morgan Stanley showed that Chinese households remain cautious over the property market, with over 80% of those surveyed reluctant to enter the market or unsure about whether they want to do so.

Economic Recovery Remains Challenged

China released some macro economic data for September last week. Exports and imports declined at a slower pace from a year earlier. Consumer prices were flat year over year, while the decline of factory-gate prices narrowed for the third consecutive month. New bank loans increased from the previous month, but came lower than expected.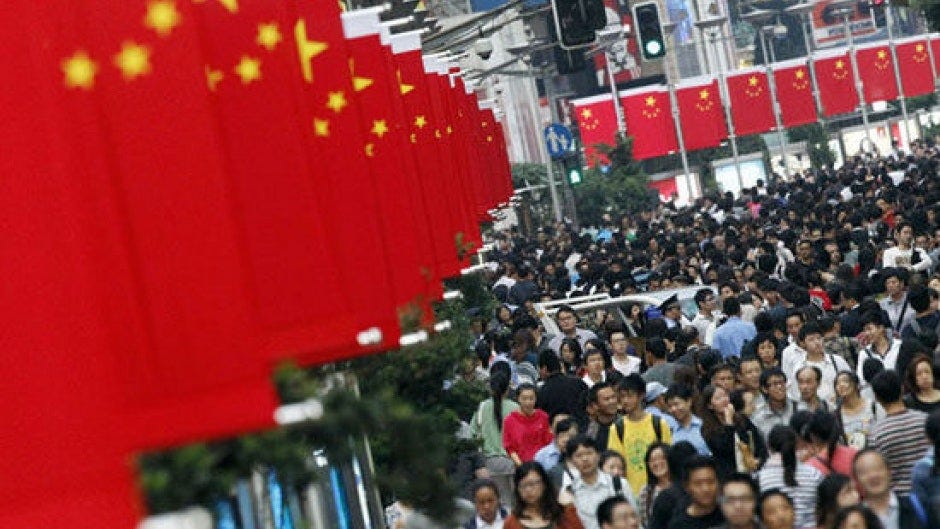 The latest data remind investors that despite some firming in activity indicators recently, China's economic recovery remains challenged.

The IMF cut growth forecasts for China, predicting 5% growth this year and 4.2% in 2024, down slightly from its forecasts in July, citing its downward revision to consumer confidence, subdued global demand and a property sector crisis.

China is due to report its Q3 GDP growth on October 18 and economists are forecasting the economy grew at a 4.4% annual pace, slowing from 6.3% in the previous quarter.
Given the persistent weakness, China is considering raising its budget deficit for 2023 to unleash a new round of stimulus to help the economy meet the annual growth target, reported Bloomberg News.

It's weighing the issuance of at least 1 trillion yuan of additional sovereign debt for spending on infrastructure, which could raise this year's budget deficit to above the 3% cap, per the report.
Stabilizing Signs of China-US Ties

China's President Xi Jinping met with a visiting delegation led by US Senate Majority Leader Chuck Schumer in Beijing. Foreign Minister Wang Yi and Commerce Ministr Wang Wentao also had meetings with the delegation. 

Xi told Schumer that the US and China have the most important bilateral relationship in the world and their common interests outweigh their differences.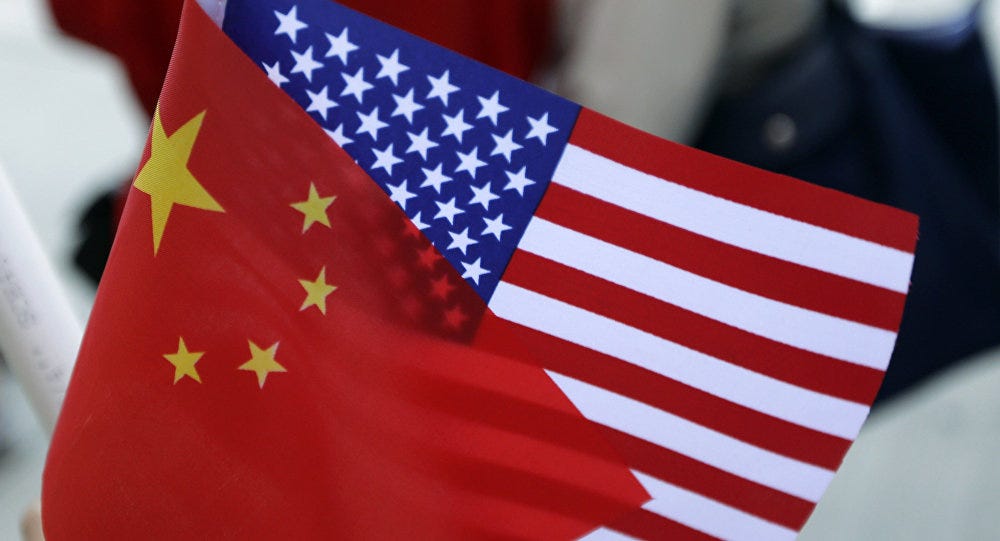 Schumer described Xi as "engaged" during the meeting, which he said lasted much longer than expected, at about 80 minutes.
Schumer said he had made clear to Xi that the US is not seeking a confrontation with China, instead it wanted stability and fairness in bilateral trade.

The visit, the first US congressional delegation since 2019, came after a flurry of high-level meetings that US officials have conducted with their Chinese counterparts over the past few months and added stabilizing signs of the bilateral ties. 

In addition, the US has accepted an invitation to attend China's top annual security forum in late October. US Ambassador to China Nicholas Burns said at an event that the US will continue to communicate with China to find ways to achieve peace and coexistence.
Authorities Move to Shore Up Lagging Stock Market 

Central Huijin Investment Ltd, a unit of China's sovereign wealth fund China Investment Corporation (CIC), increased holdings of A-shares of China's four largest state-owned banks and promised to buy more shares of the banks in the next six months. 

State media said Central Huijin's move will play a positive role in stabilising market sentiment and restoring investor confidence. Huijin's move is just the beginning and more medium- and long-term capital is expected to join the market, the media said.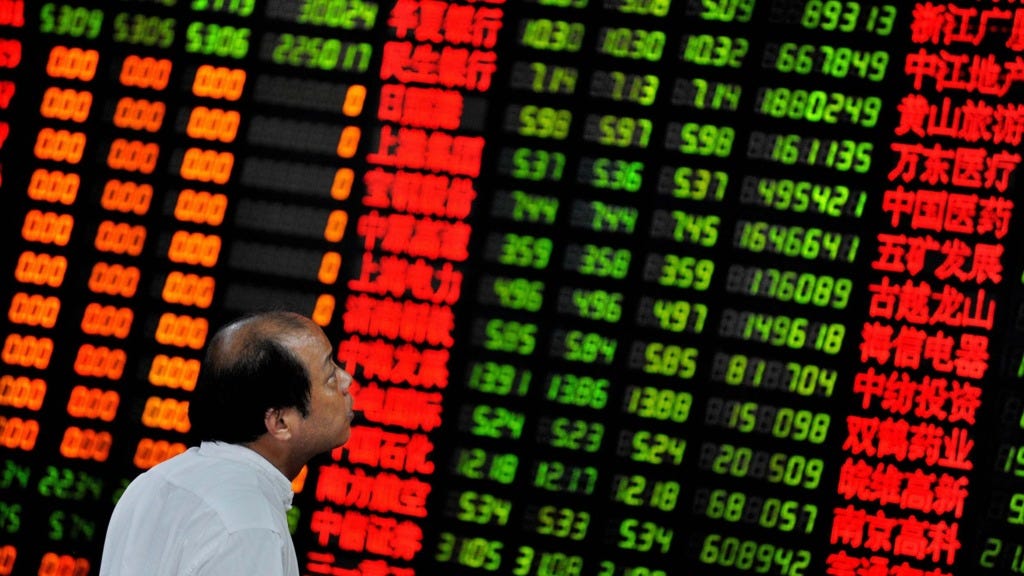 Analysts at Morgan Stanley said that Huijin's intervention is likely meant to convey the policymakers' willingness to ramp up the magnitude of policy support to stabilize the stock markets.
While it should have near-term impact, the long-term effect remains unclear, and it remains paramount for the government to improve the fundamentals and ensure geopolitical stability, they said.

China's securities regulator on Saturday vowed to restrict securities lending businesses and tighten scrutiny on improper regulatory arbitrage, seen as part of efforts to boost the stock market by restricting short-selling activities.

The China Securities Regulatory Commission will take steps including higher margin requirements and restricting lending of shares by strategic investors and senior management in newly listed companies.

In addition, China reportedly considers forming a state-backed stabilization fund to shore up confidence in the stock market. After rounds of consultation with industry participants, financial regulators recently submitted a preliminary plan to the top leadership, according to Bloomberg News.

Local government special refinancing bonds to tackle LGFV debt

China's local governments are gearing up to issue special refinancing bonds to service outstanding liabilities associated with $9 trillion of "hidden" debt amid efforts by Beijing to defuse risks in its slowing economy.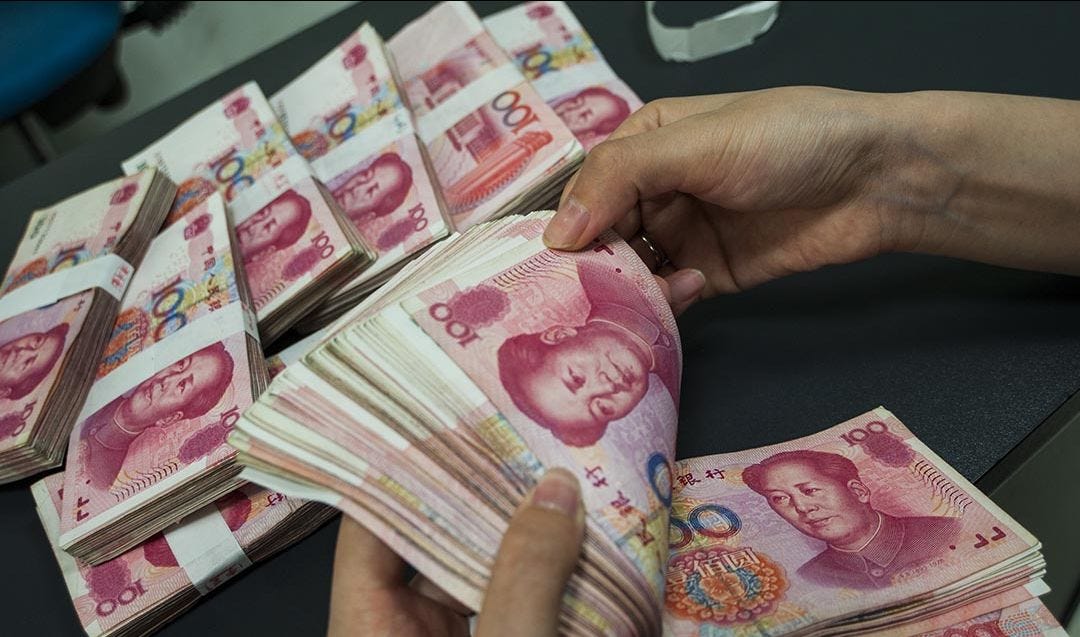 So far, 13 provincial or municipal governments have issued or announced plans to issue a total of 536.29 billion yuan worth of special refinancing bonds to swap the off-balance-sheet debt concentrated in local government financing vehicles (LGFVs), used mainly to fund infrastructure and social welfare projects.
Last week, at least eight local governments – Inner Mongolia, Tianjin, Liaoning, Chongqing, Yunnan, Guangxi, Ningxia, Gansu – announced plans to issue such bonds.
Authorities in the northeastern province of Liaoning said they would issue refinancing bonds totalling 87 billion yuan on Thursday to repay outstanding debt. Yunnan, Guangxi, Chongqing and Tianjin said they would also issue such bonds worth 53.3 billion yuan, 49.8 billion yuan, 42.2 billion yuan and 21 billion yuan, respectively, according to local media.

The autonomous region of Inner Mongolia issued 66.3 billion yuan of bonds on Monday.
Mobile phone market sees improving outlook

Apple supplier Sunny Optical's shares staged a rally in Hong Kong, surging 19% last week, after analysts see a bottom-out of the company and growth resumption of China's mobile phone market.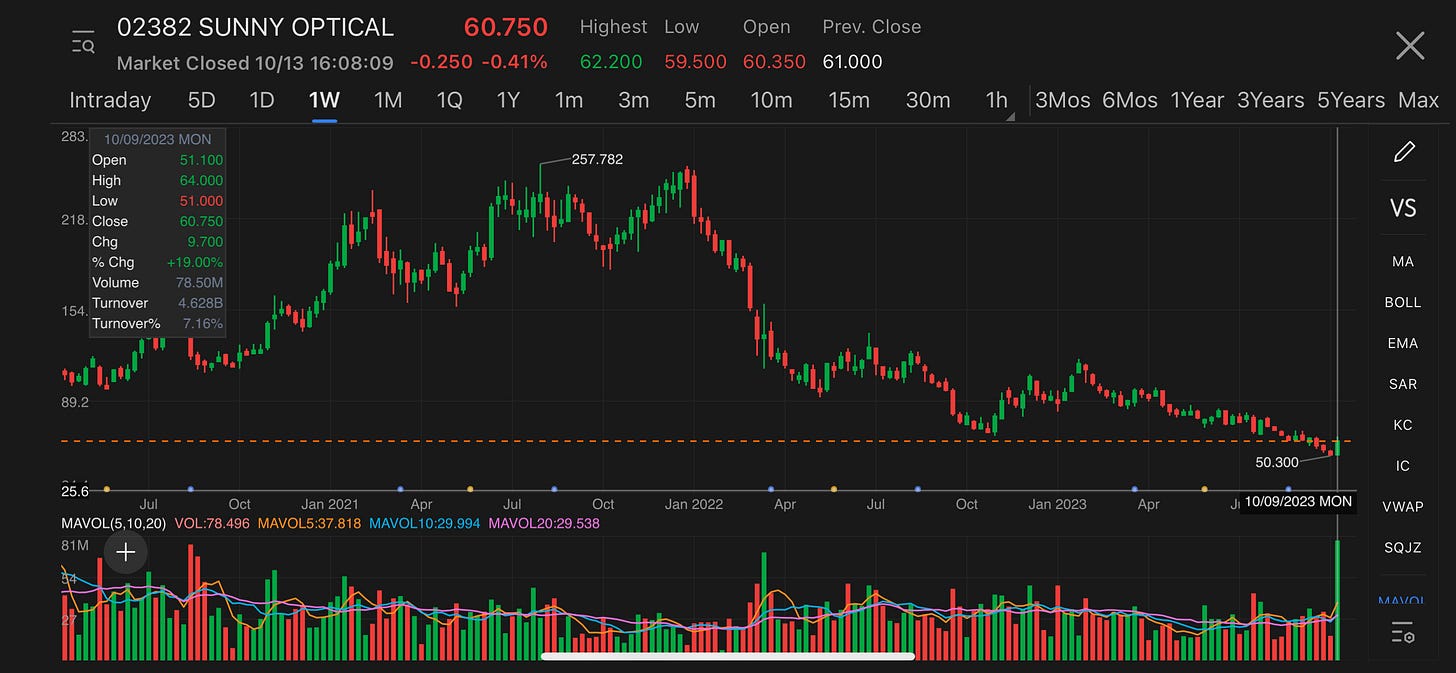 Sunny Optical has passed its bottom and China's mobile phone market is expected to resume quarter-on-quarter and year-on-year growth in Q4 benefiting from the inventory replenishment of Android mobile phones, said Ming-Chi Kuo, a renowned Apple analyst at TF International. .
The company's latest data showed that its shipments of handset lense sets rose 16.9% in September from a year earlier and up 3.1% from the previous month. Its shipments of handset camera modules rose by 41.4% on year and down 1.4% from the previous month.
Analysts at Haitong International also believe that Sunny Optical has reached the trough and its profit is expected to improve as produce prices increased with improved demand and a lower comparison base.

JD.com hit record low on market rumors, downgrades
Chinese e-commerce giant JD.com's Hong Kong shares tumbled as much as 13% on Friday to hit an all-time low of HK$102.50, as Wall Street banks turned bearish on the stock and rumors swirled that a businessman with the same surname as its chairman had been arrested.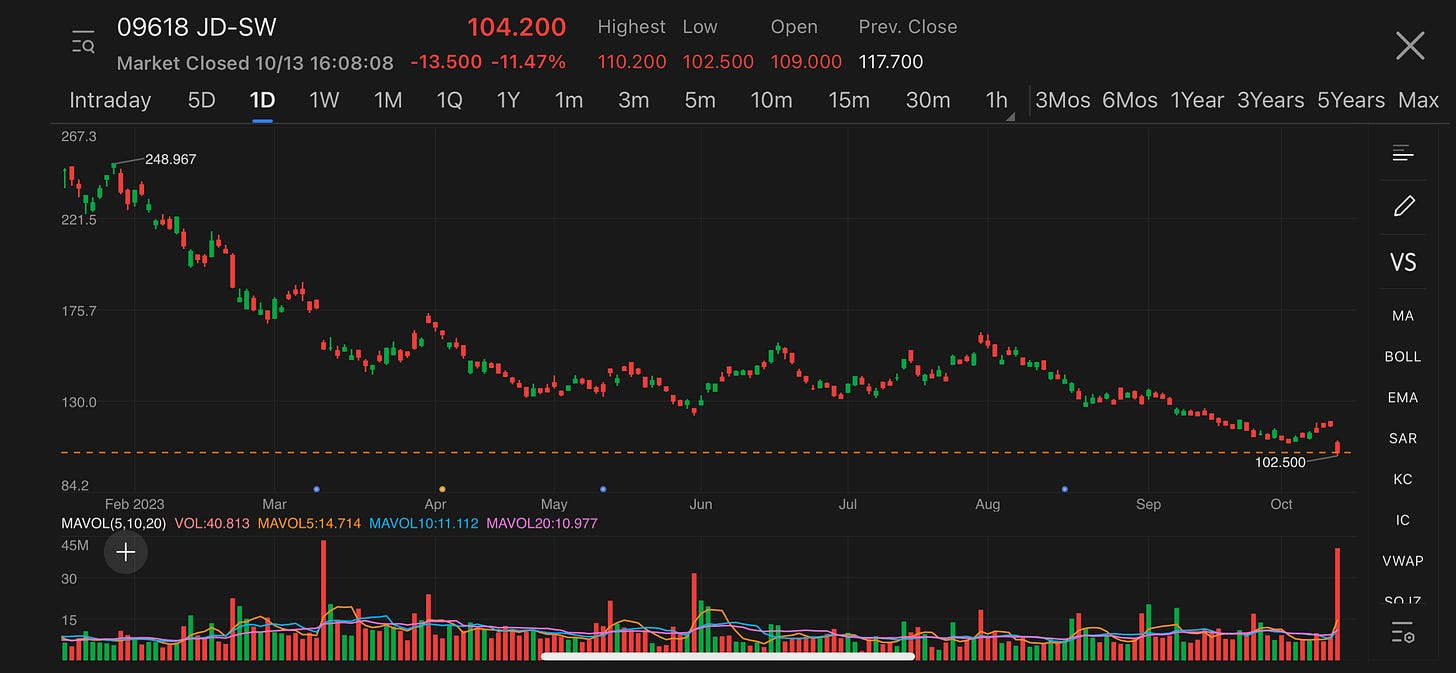 At least seven banks including Morgan Stanley and Citigroup have either downgraded the stock or lowered price targets in the past two days.

The stock extended its drop after the firm said that it had lodged a police report over a rumor that a businessman surnamed Liu had been arrested on suspicion of violation of laws. The firm's chairman is Richard Liu.
JD.com's share price has halved year to date amid concerns about China's weak consumption. "We expect a long-term trend of consumption downgrade in China, and if JD is not able to successfully implement its low price strategy that caters to the trend, we think it could be in a structurally less favorable position in China's e-commerce market," Morgan Stanley said.

"Heading into Q4, despite seasonally strong 11.11 promotion, we believe cautious consumption sentiment and competitive pricing discount are likely to weigh on any meaningful rebound of growth for JD," Citigroup said.
Lithium Carbonate Rebound 

China's most-traded lithium carbonate futures contract on the Guangzhou Futures Exchange, for January 2024 delivery, staged a strong rally, surging 13.7% for the week, after sliding for eight consecutive weeks. In particular, on Thursday, all contracts of lithium carbonate futures on the bourse hit limit-up.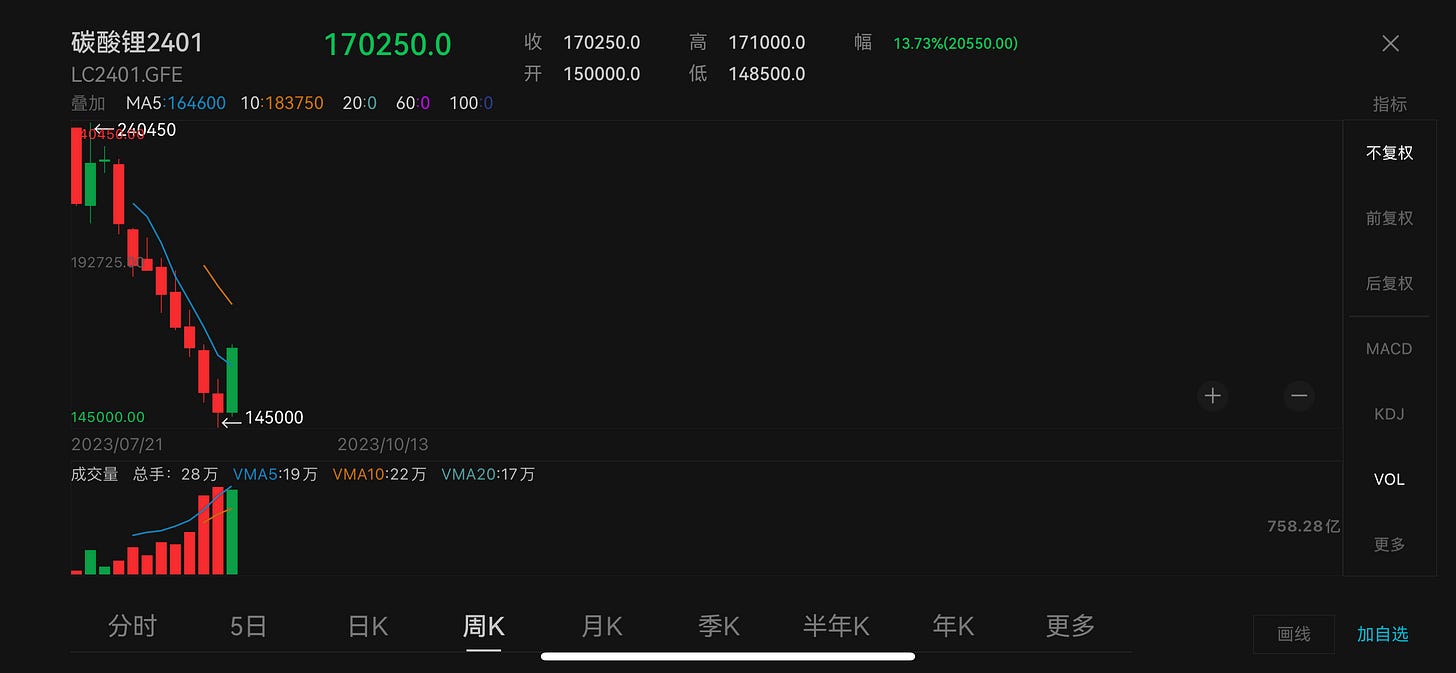 The rally of comes as lithium producers in northwestern China's Qinghai province, a major production base, are conducting seasonal production cut and some lithium salt companies in Jiangxi and Sichuan cut production due to losses, said Xinhu Futures.
China's domestic lithium carbonate output fell 11.9% in September from the previous month and the output is expected to decline further to 34,000 tonnes in October, according to consultancy Mysteel. Meanwhile, Chile's lithium carbonate exports to China in September slid by 25% from the previous month, said Xinhu.

The continuous declines have brought lithium carbonate prices close to the cost line of many producers and they are becoming unwilling to cut prices further, market insiders say.
The production cuts, falling imports and companies' unwillingness to cut prices further led to a rebound in lithium carbonate prices, but from a medium-term perspective, lithium carbonate prices could fell further due to oversupply and weak demand, it said.
China, US talked on Israel-Gaza crisis

China's Foreign Minister Wang Yi spoke with US Secretary of State Antony Blinken by phone on Saturday on the crisis in Israel and Gaza. 

China calls for the convening of an international peace conference as soon as possible, saying Palestinian-Israel conflict is escalating and risks getting out of control.

"China opposes all acts that harm civilians and condemns practices that violate international law", Wang said.
Earlier in the week, Zhai Jun, China's special envoy for the Middle East called for humanitarian support for the Palestinian people in a telephone conversation with an official at Egypt's Ministry of Foreign Affairs.

Xi to Belt and Road Forum

The third Belt and Road Forum for International Cooperation will be held on October 17-18 in Beijing, with a theme of high-quality cooperation for the Belt and Road Initiative and shared prosperity.

Chinese President Xi Jinping will attend the opening ceremony and deliver a keynote speech. The Belt and Road is a landmark project in Xi's bid to expand China's clout overseas.
Representatives from 130 nations and 30 international organizations are expected to attend the forum, which is the third since China launched the vast investment initiative, with events previously held in 2017 and 2019.
Russian President Putin has said he will attend the event, in what will be his first visit to China since his war in Ukraine threw him into international isolation. Top Russian diplomat Sergei Lavrov will also attend and hold talks with Chinese counterpart Wang Yi.